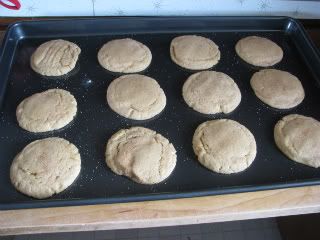 A million dollars for a peanut butter cookie? Must be some cookie, right? Thats what I thought when I ran across this recipe in the blogosphere. And let me tell you, these are worth a million dollars. These little bad boys won the Pillsbury million dollar bake-off a few years back and they definitely deserved the title! And the best part is, they're just so easy to make! With a few simple ingredients, all you need is maybe an hour tops, including prep time, baking, and cooling time. Fastest cookies I have ever whipped up and my dad absolutely loved them. It only makes 24 cookies, so I might double it next time around because they were gone by the next night. Make these today, trust me, you will not be sorry!
Look at that peanut butter filling oozing out! Do you see it? I could just die! Yum!
Carolyn Gurtz's Pillsbury Bake-Off Million-Dollar Double Delight Peanut Butter Cookies
Ingredients:
1/4 cup granulated sugar
1/2 teaspoon cinnamon
1/2 cup Creamy Peanut Butter
1/2 cup confectioners' powdered sugar
1 roll Pillsbury refrigerated peanut butter cookies, well chilled.
Directions:
Heat oven to 375°F. In small bowl, mix granulated sugar and cinnamon; set aside. In another small bowl, stir peanut butter and powdered sugar until completely blended. Shape mixture into 24 (1-inch) balls. Cut roll of cookie dough into 12 slices. Cut each slice in half crosswise to make 24 pieces; flatten slightly. Shape 1 cookie dough piece around 1 peanut butter ball, covering completely. Repeat with remaining dough and balls.
Roll each covered ball in sugar mixture; gently pat mixture completely onto balls. On ungreased large cookie sheets, place balls 2 inches apart. Spray bottom of drinking glass with Crisco original no-stick cooking spray; press into remaining peanut mixture. Flatten each ball to 1/4-inch thickness with bottom of glass. Sprinkle any remaining peanut mixture evenly on tops of cookies; gently press into dough.
Bake 7 to 12 minutes or until edges are golden brown. Let cool 1 minute; remove from cookie sheets to cooling rack. Store tightly covered. Makes 24 cookies.
Source: Recipe from
Sing For Your Supper
, originally a Pillsbury Million Dollar Bake Off entry