Happy St. Patrick's Day! I love St. Patty's Day, I don't know if its all the green or the excuse to party on a Thursday, but I just can't get enough of this holiday! So in honor of St. Patty's, I decided to make these green velvet cupcakes! I thought these would be extremely fitting for such a green day and would have been even cuter with some shamrock sprinkles on top. Too bad I went to Michael's the night before St. Patrick's Day and, of course, they were all sold out already. Oh well, that will teach me to wait until the last second I guess.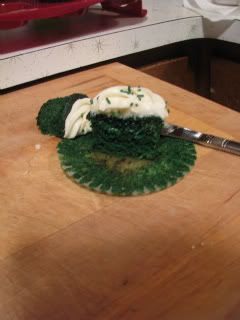 I paired these with a creamy and delicious cream cheese frosting because I feel like red velvet cakes (or green velvet, in this case) should always have a cream cheese frosting. Nothing else just goes with it as perfectly! I hope you enjoy and everybody have a fun and safe St. Patrick's Day!
Green Velvet Cupcakes
Ingredients:
2 1/2 cups all purpose flour
2 cups sugar
1 Tablespoon cocoa
1 teaspoon salt
1 teaspoon baking soda
2 eggs
1 cup oil
1 cup buttermilk
1 Tablespoon vinegar
1 teaspoon vanilla
1 oz green food coloring
Directions:
Preheat your oven to 350 degrees F. Line two cupcake pans with paper liners. Lightly stir your eggs in a medium bowl with a whisk. Add in remaining wet ingredients, except food coloring, and whisk until blended, then set aside.
Place all dry ingredients in your mixer fitted with the paddle attachment and mix together well. With mixer on low speed, slowly pour in wet ingredients. While still on low speed, add in your food coloring and then increase the speed to medium-high for about a minute or two until all ingredients are combined and batter reaches desired shade of green.
Pour the batter into prepared cups, 2/3 way full. Bake for 15-18 minutes, or until a toothpick inserted in center comes out clean. Allow to cool 5 minutes in pan and then transfer to cooling racks to cool completely.
Source: Recipe adapted from
Love From The Oven
, originally posted by
Bakerella
Cream Cheese Frostin
g
Ingredients:
2 8 oz. blocks of cream cheese
10 tbsp. unsalted butter
4 tsp. clear vanilla extract
5 cups powdered sugar, sifted
Directions:
Combine the cream cheese and butter in the bowl of an electric mixer. Beat on medium-high speed until well combined and smooth, about 2-3 minutes. Mix in the vanilla extract. Gradually beat in the powdered sugar until totally incorporated, increase the speed and then beat until smooth. Frost cooled cupcakes as desired.
Source: Frosting recipe adapted from
Annie's Eats
, originally by
Confections of a Foodie Bride