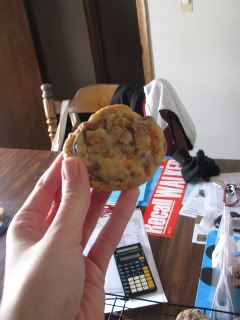 I don't think I could love any candy bar more than I love Milky Way's. They've always been my favorite, ever since I was a kid. I don't know if its the milky chocolate or the gooey caramel but I just can't get enough of them! My ultimate weakness. So when I came across this recipe that incorporates Milky Ways into a cookie, I was immediately sold! Especially when you add Butterfingers to the mix. The texture was so perfect, gooey and melty because of the Milky Ways but the Butterfingers added that little necessary crunch. So yummy! These little bad boys were immediately inhaled by my boyfriend and father. I would say thats definitely a winner!
Butterfinger & Milky Way Chocolate Chunk Cookies
Ingredients:
2 sticks softened butter
3/4 Cup brown sugar
3/4 Cup granulated sugar
2 eggs
1 teaspoon vanilla
3 Cups all purpose flour
1 teaspoon baking soda
3/4 teaspoon salt
6 mini butterfinger (fun size), broken into pieces
6 mini milky ways (fun size), quartered
1 Cup semisweet chocolate chips
Directions:
Preheat oven to 375 degrees F. In a stand or electric mixer, beat butter and sugars until well combined. Slowly add in eggs and vanilla until well mixed.
Place flour, baking soda and salt into a large bowl; mix to combine. Slowly add to wet ingredients along with the candy bars and chocolate chips until just combined. With a medium cookie scoop, scoop dough onto a silpat or parchment paper lined baking sheet about 1 1/2 inches apart. Bake for 9-11 minutes or until done to your liking. Let cool for 5-7 minutes on baking sheet to set up. Transfer to a cooling rack to finish cooling. Makes 3 dozen cookies.
Source: Recipe from
Picky Palate