Just the other night, I was sitting in the family room, reading a book and unwinding before heading to bed when my mom walks in from the kitchen after preparing my dad's lunch for the next day and says to me, "I have about four ripe bananas, did you want to make something?" And my answer, of course, was obviously! Any excuse to bake is always okay with me but what to make this time? I decided to leave it up to my dad so I could make him a snack for work the next day since he clearly wasn't going to be getting a banana packed in his bag when we didn't have any good ones left.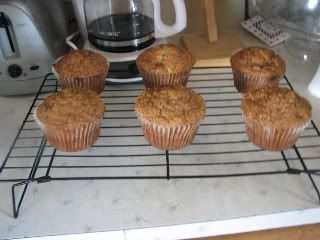 So after giving him a few recipes to read over, he decided on these banana crumb muffins and I am so, so, so glad that he did. These baby's were fantastic! So moist with a wonderful banana flavoring that wasn't too strong. And the crumb topping was to die for! Kind of reminded me of a streusel topping. It really made the whole muffin come together and these will definitely be making more appearances in my house from now on.
By the way, I always like to make my muffins using my jumbo muffin pans just because I find it makes for a more suitable breakfast. One regular size muffin never seems to keep me full enough during the morning. And besides, who doesn't want a jumbo muffin? But these can of course be made using a regular sized muffin pan!
Banana Crumb Muffins
Ingredients:
For the muffins:
1 1/2 cups all-purpose flour
1 teaspoon baking soda
1 teaspoon baking powder
1/2 teaspoon salt
3 bananas, mashed
3/4 cup white sugar
1 egg, lightly beaten
½ teaspoon cinnamon
1/3 cup butter, melted
For the topping:
1/3 cup packed brown sugar
2 tablespoons all-purpose flour
1/8 teaspoon ground cinnamon
1 tablespoon butter
Directions:
Preheat oven to 375°F. Lightly grease a jumbo muffin pan or line with jumbo liners or line 12 regular muffin cups with paper liners.
In a large bowl, mix together 1 ½ cups flour, baking soda, baking powder and salt. In another bowl, beat together bananas, sugar, egg, cinnamon and melted butter. Stir the banana mixture into the flour mixture just until moistened. Spoon batter into prepared muffin cups.
In a small bowl, mix together brown sugar, 2 tablespoons flour and cinnamon. Cut in 1 tablespoon butter until mixture resembles coarse cornmeal. Sprinkle topping over muffins.
Bake in preheated oven for 20-22 minutes for jumbo-sized muffins or 18 to 20 minutes for regular-sized muffins, until a toothpick inserted into center of a muffin comes out clean.
Source:
Annie's Eats
, originally from
All Recipes