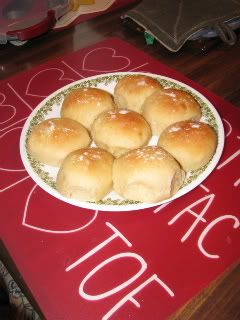 I love making my own dinner rolls. There's just something so accomplishing about watching your dough rise and then getting it in the oven and the heavenly smell of freshly baked dough starts wafting through your house. Mmm, bliss. These have to be one of my favorite dinner rolls to make. The prep time takes a little bit but its not very long at all to wait for them to rise and shaping them is a breeze! They're so flaky and tender and the potato flavor isn't too strong but it's definitely there. I would highly recommend trying these for your next meal!
Potato Rolls
Ingredients:
1 russet potato (big enough to make 1/2 cup mashed potato), peeled and chopped
1/3 cup unsalted butter, softened
2 tbsp. granulated sugar
1 tbsp. honey
1/2 tsp. salt
1 egg
1/2 cup milk, warmed
1 1/8 tsp. instant yeast
1/4 cup reserved potato water, lukewarm, with 1 teaspoon sugar added to it
2 1/2 – 3 cups flour
Directions:
Boil potato until tender. Drain cooking water, reserving 1/4 cup for use in the rolls. Finely mash the potato and measure out 1/2 cup. Let cool to nearly room temperature.
In the bowl of a stand mixer fitted with the paddle attachment, mix together the mashed potato, butter, sugar, honey, salt and egg. Mix together on medium speed for about 2 minutes. Combine the yeast with the warm milk and reserved potato water, and pour into the mixer bowl. Mix on low speed until incorporated. Gradually add the flour, about 1/2 cup at a time, until a soft dough forms. Switch to the dough hook attachment on knead on low speed for 5 minutes, adding more flour if necessary to achieve a soft dough that is slightly tacky but not sticky. Transfer the dough to a lightly oiled bowl, turning once to coat. Cover with plastic wrap and let rise in a warm place until doubled in bulk, about 60-90 minutes.
Line a baking sheet with parchment paper. Turn the down out onto a lightly floured surface and punch it down. Separate into 16 equal pieces and shape into rolls. Place the rolls on the prepared baking sheet, about 1 1/2 inches apart. Sprinkle the rolls with a dusting of flour. Cover with a clean kitchen towel and let the dough rise again until the rolls have grown into each other, about 30-45 minutes. Meanwhile, preheat the oven to 400 degrees F.
Bake in the preheated oven for about 12 minutes, until golden. Serve warm. Makes about 16 rolls.
Source: Recipe from
Annie's Eats