I present to you the most ridiculous and delicious cookie I have ever tasted in my nearly 22 years of living. A Reeses' peanut butter cup stuffed chocolate chip cookie. If you haven't heard of Jenny yet over at
Picky Palate
then please, please, please click this link to find out all about her amazingness. She is an idol in the cookie world.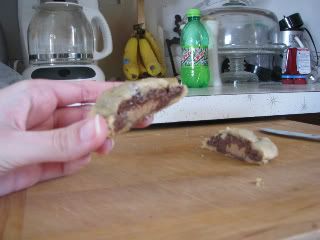 Jenny invented the original stuffed cookie with her beyond amazing
Oreo-stuffed cookies
and she has made so many more incredible versions! And I fully intend on trying each and every one of them. I decided to do her candy-stuffed ones first because my boyfriend is a huge Reese's fan so I knew I could pawn these off on him after I had a few. I would hate to have all 2 dozen of these around the house because I know I would inhale each and every last one of them!
Jenny did a variety of candy when she was stuffing cookies but I only had Reese's in my cupboard so thats what I stuck with but I think a Milky Way stuffed cookie (my ultimate weakness when it comes to candy) would be epic! I definitely want to try this one with different candy types.
I hope you have a tall glass of milk handy and enjoy these oh so naughty cookies!
Reese's Stuffed Chocolate Chip Cookies
Ingredients:
2 sticks softened butter
1 Cup granulated sugar
3/4 Cup brown sugar
2 large eggs
1 Tablespoon pure vanilla
3 1/2 Cups all purpose flour
1 teaspoon baking soda
1/2 teaspoon salt
10 oz bag chocolate chips
24 Reeses's Peanut Butter Cups (or any other variety of candy)
Directions:
Preheat oven to 350 degrees F. In a stand or electric mixer, cream butter and sugars until well combined. Add eggs and vanilla until well combined.
Place flour, baking soda, and salt in large bowl; mix then slowly add to wet ingredients. Add chocolate chips to combine. Using a cookie scoop take one scoop of cookie dough and place on top of a Reese's Peanut Butter cup.
Take another scoop of dough and place on bottom of candy.
Seal edges together by pressing and cupping in hand until Reese's cup is enclosed with dough. Place onto a parchment or silpat lined baking sheet and bake cookies 9-13 minutes or until cookies are baked to your liking.
Let cool for 5 minutes before transferring to cooling rack. Makes 24 large cookies.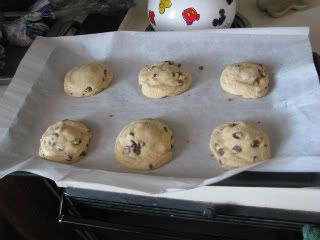 Source: Recipe from
Picky Palate